Gylling Teknikk AS
Gylling Teknikk AS was established in Norway in 1983 and is now one of Norway's leading players in the following key segments:
Batteries – power supplies and battery solutions for the oil industry, medical equipment, the emergency services and the armed forces. Also to companies in the computer industry, and starter batteries for vehicles.
Electromechanical products – the company has developed and sells its own lockout system, along with optical sensors, relays, timers and other components from leading brands. The products are intended for wholesalers and manufacturing companies.
Management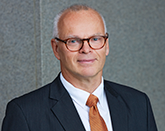 Sverre Iversen
CEO